Higham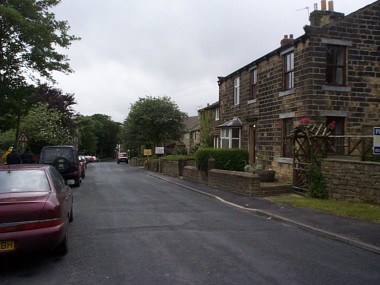 Picture of the main street in Higham.
Higham is part of a small cluster of villages between Nelson and Padiham. Its most famous citizen was Jonas Moore, co-founder of the Greenwich Observatory (see also). Now more famous for the Easter craft exhibition held each year at the parish school and church. The church, St. John the Evangelist, was built in 1846. It has an interesting anecdote concerning one of the windows in the church. A certain Thomas Clayton paid for a new window to be installed in the church. When he saw it he took such a dislike to it that he smashed it with his cane and commissioned another to be made. The next, and final one, was made by Charles Kemp, a famous local artist. His characteristic signature, a sheaf of wheat, appears in the window.
Higham also has its own Pendle Witch story. Chattox was accused of turning the beer sour at the Four Alls Inn (built in 1792) in the center of the village. Next to the pub is one of Higham's only remaining industries, a furniture mill.
Between 1920 and 1940 one of Higham's largest companies was in full swing, the Higham Balloon Juice Company - probably owned by the same owners as the Knotty Ash Jam Butty Mines, it never actually existed - it was invented as a spoof on company life having all the "trappings" of a company; board meetings, accounts and annual general meetings.
Key Features
Places of Interest
| Description | Location | Comments |
| --- | --- | --- |
| 1 | | |
| 2 | | |
| 3 | | |