Foulridge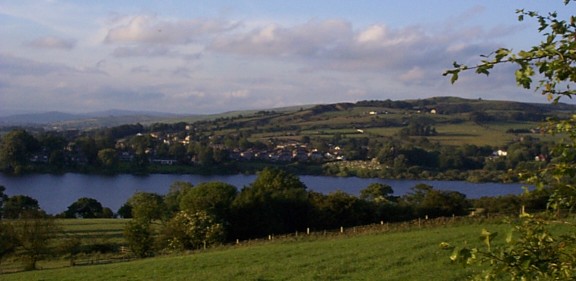 Picture of Foulridge over Lake Burwain taken from Red Lane, Colne - 27 June 1998, 20:00.
Foulridge is a small village about 1.5 miles north of Colne. The village is set in a valley that runs North/South with Noyna Hill to the East and Pasture Head to the West. It officially became part of Colne in 1935. It was a community of farmers and handloom weavers before the Leeds-Liverpool canal brought navvies to the area. At the peak of the weaving industry Foulridge Wharf was a hive of activity as cargoes of raw cotton arriving from the US were unloaded from barges. Now the village is largely a residential area providing tourist facilities for canal cruises (the Mile Tunnel is here at Foulridge), sailing (on Lake Burwain), fishing and walking. These days you can take a variety of boat trips along the canal and eat in the Foulridge Tea Rooms on the Wharf.

Etymology of "Foulridge"
Foulridge (pronounced "foalridge", derives its name from the Anglo-Saxon words "fola" (foal) and "hryeg" (ridge). Other placenames ("becks", "gills" and "gates" - common parts of names around Foulridge) in the area suggest that Vikings also settled close by.
History
There is some evidence that Bronze Age man settled in and around Foulridge at around 2000 B.C. The earliest evidence of an actual settlement in Foulridge is the Celtic walling at the foot of Noyna, left by an Iron Age tribe called the Brigantes.

[More history...]
Foulridge Tunnel
In 1796, after five years of excavating, the Foulridge (or "Mile") Tunnel section (1500m/1650 yards) of the Leeds-Liverpool canal was opened. Because the tunnel is so long and there is no towpath for a horse to pull the barges through, between 1880 and 1937 a steam boat tugged barges through. Before 1880 me used to "leg it" through the tunnel. This meant that the crew would lie on their backs and push the barge through by "walking" along the ceiling of the tunnel. In the Hole-in-the-Corner pub is a picture of a cow that fell into the canal and managed to swim the entire length of the tunnel!
[More history...]
References
Oldland, F. "The Story of Foulridge", Pendle Heritage Centre Ltd., 1990
Key Attractions
| | |
| --- | --- |
| | 1 Lake Burwain |
| | 2 Mile Tunnel |
| | 3 St Michael & All Angels Church |