Internet Story: 15 July 1999
Earn while you surf&nbsp Today a UK company, SharkHunt.com, opens its doors for you to sign on to their web based pyramid selling scheme. It works by paying you 25p per hour that you are online displaying their banner at the bottom of your screen (downloaded from their site, takes up 10% of your screen). But that's not where it ends. If you can convince a friend to sign up and do the same then you receive 10p/hour whilst they are online. If your friend then signs people up you get 5p/hour for their time, etc. Sounds ideal for the workplace where machines are on all the time, though the company has said it will initially limit payouts to no more than £20/month. Be careful though, a US company AllAdvantage.com, running a similar scheme, may have been passing on email addresses and personal details to spammers! Be careful when swimming with sharks! See BBC report.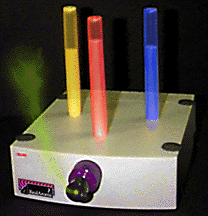 A real stink! If this invention is for real then it's very exciting indeed. It's a device that allows the generation of odors under computer control - a bit like mixing primary colors to produce a anything in the visible light spectrum. It is apparently patented - though I can find no trace in the US trademark and patent databases (unless it's 5,762,268 or 5,727,186 - granted to BOC, plc). I have seen no mention of it on the Net before, yet the web site is produced by Agency.com - not noted for putting spoof sites up (they host sites like the main British Airways site). Interesting indeed, if a little implausible. I wonder if it can mask my ojisan :-)
Law of the Land Now here's a really useful free resource with everything that you need to know about the law in England & Wales. It's packed with FAQs (Frequently Asked Questions) from Accidents to Small Claims. It gives you the latest news updates in the legal happenings in the UK, tells you how to deal with a solicitor, all about legal fees and much more. Well worth a visit if you need to know your rights.
Passport to e-commerce Are you, like me, fed up of registering with countless web sites, repeating the same information over and over again? Well help may be near at hand. Microsoft has just announced its Single Signon Service called MS Passport. According to Jupiter Communications, 27% of consumers abandon items they put into a "shopping basket" at a Web storefront because they find filling out forms too difficult. (I'm surprised its as low as 27%!). The Passport solution lets create a wallet that allows you to enter a common set of personal details. When you browse a site that is a Passport enabled site you just need to click a single button to upload your details via a secure link. The first sites to be enabled, starting this month, are likely to be those merchants using MSN. You can sign up for your free wallet here. A list of sites supporting Passport is here, they are likely to be in the USA to start with.
Andrew Stringer, © Pendle.Net Ltd, 1999