[ Internet: 02Dec1998 ] [ Internet: 03Dec1998 ] [ Internet: 05Dec1998 ] [ Internet: 06Dec1998 ] [ Internet: 07Dec1998 ] [ Internet: 08Dec1998 ] [ Internet: 09Dec1998 ] [ Internet: 10Dec1998 ] [ Internet: 13Dec1998 ] [ Internet: 14Dec1998 ] [ Internet: 15Dec1998 ] [ Internet: 16Dec1998 ] [ Internet: 17Dec1998 ] [ Internet: 18Dec1998 ] [ Internet: 19Dec1998 ] [ Internet: 22Dec1998 ] [ Internet: 31Dec1998 ]
Internet Story: 05 Dec 1998
Gizza Job In a debate on the Queen's Speech, Peter Mandleson (Secretary of State for Trade and Industry) announced the formation of a new government appointment. Mr. Mandleson said,
"I think it is evidence of the emerging international consensus on
e-commerce that I can wholeheartedly support these proposals. The
stress placed in the US announcement on ensuring appropriate and
effective online protection for consumers, for example, very much
mirrors my own concerns."

"It is on issues such as these that I will expect the digital envoy
(whose post I announced last week) to take a leading role, not just
domestically but also internationally to ensure that in seeking to
remove barriers to the development of e-commerce we do not
substitute new ones through a disjointed patchwork of national
initiatives."
Well the job ad has finally arrived.
This Internet Czar, hopefully more successful that the government Drugs Czar, will oversee and coordinate government Internet initiatives and attempt to make the UK an "e-commerce friendly" zone. The envoy will report directly to Mr. Mandleson and the Prime Minister (so leave your anorak at the door :-))
The envoy will, "spearhead the Government's drive to ensure that:
| | |
| --- | --- |
| | by 2002 the UK is the best environment worldwide in which to trade electronically; and |
| | UK businesses and consumers fully realise the potential which this will create." |
Candidates will also have:
| | |
| --- | --- |
| | "strong advocacy skills, with a track record of influencing and building relationships at a senior level; |
| | excellent intellectual ability and strategic insight; and |
| | the subtlety and sensitivity to understand a complex representational role." |
See http://www.dti.gov.uk/e-envoy/ for the full Ad - get your submissions in by 06 Jan 1999!

SMALL FIRMS RECEIVE FREE INTERNET ACCESS Also in this week's news, "BIG OPPORTUNITY FOR SMALL FIRMS". Barbara Roche MP, Small Firms Minister, said,
"Small businesses should get on line and start realising the
opportunities. It is vital for them to appreciate - regardless of
their type of business - how e-commerce can bring them competitive
advantage."
She was launching the new initiative of the Federation of Small Businesses (FSB). The FSB has teamed up with Microsoft, 3Com, Lloyds TSB and Cobweb to help every small firm get on the Internet at no cost to themselves. Small businesses will also be able to use free e-mail and build their own websites at a fraction of the normal cost.
The initiative includes:

| | |
| --- | --- |
| | FSB Dial - giving every member free access to the Internet; |
| | FSB Online Directory - a listing on the Internet where millions of people worldwide can access information on participating members' businesses; |
| | FSB WebSpace - a DIY site including a free copy of the software programme used for composition and editing, Microsoft FrontPage; |
| | FSB WebSite - a complete website designed and authored by professionals; |
| | FSB WebStore - adding e-commerce capabilities to websites; |
| | FSB WebCD - facilitating marketing by adapting websites to disk and adding richer multi-media content. |

US E-Sales look Good for November Looks like online sales are really taking off in the US this year. Online retailers reported sales increased by between 200% and 700% on last year (mind you, depends on how bad last years figures were to really tell how good this is!) for the Thanksgiving weekend. Analysis by Jupiter Communications seems to back up the retailers' optimistic predictions that, "this year will be the start of the E-Commerce boom".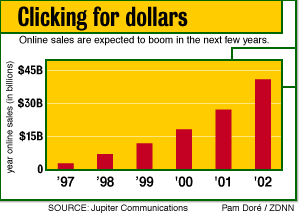 E-Glamour If you want to see some glamour in online retailing, check out Victoria's Secret (a brand of Intimate Brands) - open today. This comes hot on the heals of the Intimate Brands site itself. They reported a 10% increase in sales after the launch, instead of the expected seasonal decline!
| | |
| --- | --- |
| | Victoria's Secret is a catalogue and store brand of lingerie in the USA (catalogue also available in the UK) that has recently started to decline, so this news will be welcome news to major share holder (83%) The Limited, Inc.. The Victoria's Secret site was due to open for the Thanksgiving holiday weekend in the USA but, wisely, the site opening was put on hold until it was sure that the expected high volume of traffic to it can be handled. |
Initially more than 100 items will be on sale. However, unlike most online retailers, Victoria's Secret intends to build on customer loyalty by creating online community in a variety of forms, including mailing lists and chat rooms with some of their more famous models (e.g. Tyra Banks & Stephanie Seymore). You might also want to check out and old E-retailer of lingerie, Frederick's of Hollywood - they've been around for more than 2 years now (be patient there are some large GIF files on the front page). Frederick's has also reported a massive increase in online sales over the last quarter.

Catalogue based retailers are ideally placed to enter the e-commerce arena. They have the fulfillment side (accepting an order thru to shipping, etc.) of the business already in place. They only have to supplement (add to phone/written/fax) the method of order capture and customer support with their online counterparts. Expect to see a lot more catalogue firms taking to the web in the UK, and even mergers between larger non-catalogue retailers and catalogue retailers.
What's the most important thing you can do in your online marketing campaign? You can probably debate this until the cows come home and have as many different answers as cows coming home. I amongst many others believe that above all you have to create a brand image across all media. For example, when you think of jeans, what name springs to mind? When you think of vacuum cleaners, what name do you almost always use? When you buy a bag of Pick 'n' Mix, where has it come from? (Levi, Hoover (is the woman in the image hoovering?), Woolworths) These brands are now firmly entrenched in our culture and psyche.

Some online companies are attempting to do the same thing - Who is "the biz" in online books? It's Amazon, of course. Where do you go to find something on the Net? Yahoo!? Research statistics produced by Intelliquest show that these are amongst the most commonly recognized online brands.

Why is branding most important? Because if your product/service is not at the forefront of people's minds (on or offline) then you're unlikely to be the market leader. The best way of achieving greatest brand awareness is to make sure your brand is promoted on all media (not just online). You need to link them all together. For example: your web site should have pointers to TV ads, print ads, radio ads, etc., your TV ads should refer to the web site, print ads, radio ads, etc., your print ads should refer to your web site, TV ads, radio ads, etc.. Get the picture? Check out the Business Week article (''Branding on the Net,'' Marketing, Nov. 9).
An adaptation of this concept (termed Spiral Branding) is that you raise awareness of your brand in the traditional media (print, radio, TV) that points your customers at your web site where you deliver more added value information (specialized services, interactive content (see Victoria's Secret above)) and also collect email addresses and possibly other contact details from your visitors. You can then notify your email list of people with changes and new offers and encourage them to re-visit your site and watch out for further info on TV, etc.
An example would be: A popular children's TV program invites you to go to it's web site. At the site it encourages you to enter a competition to win a new computer game. It then uses the email address you have supplied to remind you to view the latest single released by the Spice Girls on their show next Saturday. On TV they then tell you about the next competition on the Web site...
The keys to spiral branding are:
Use each media for its best purpose (for instance, don't try to create a TV experience on the Web)
Do it fast (get something up now and fine-tune as you go along)
Iterate constantly (make improvements each time around the spiral)
Andrew Stringer, © Pendle.Net Ltd, 1998