BRITISH EQUITY
About Us | Dawson Peters | Rachel Allen | Contact Details
Dawson Peters Productions currently have two shows on offer which can be performed in any theatrical space:
Shakespeare's Saints and Sinners... Dawson Peters and Rachel Allen explore Shakespeare's world where good and evil collide to provide a riveting theatrical experience. Shakespeare's glorious works are interspersed with comic comment on the bard and often hilarious extracts from contemporary documents giving insights into 16th century life.
St Mark's Gospel... Dawson Peter's one man dramatic presentation of St. Mark's Gospel. Described by the press as a 'tour de force', Peter's performance brings words of the King James version vividly to life... "An experience not to be missed."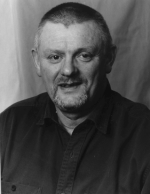 Click Photo to Enlarge
Dawson Peters is an associate actor with The Creation Theatre Co., Oxford, with whom he has many Shakespearean theatrical credits. With other companies he has acted in plays by Arthur Miller, Alan Aykbourn, David Hare, Jim Cartwright, and many others.
June 1999: Dawson Peters is currently in Oxford rehearsing for Anthony and Cleopatra and the Tempest.
Rachel Allen trained at the Webber Douglas Academy of Art. With various companies she has played leading roles in "Taming of the Shrew", "Dancing at Lughnasa", and "Sex, Lies and Sellotape".
June 1999: Rachel Allen has just landed the part of Cordelia in King Lear in the Barry Rutter Company.
Contact Details