[ Colne in Pictures ] [ Colne Parish Church ] [ Colne Pubs & Clubs ] [ Wallace Hartley ]
Colne Parish Church
Church Services

| | | |
| --- | --- | --- |
| Sunday | 0830 | Communion |
| Sunday | 1030 | Service Varies |
| Wednesday | 1000 | Communion |
A Brief History
The earliest record of a Church in Colne is dated 1122. It was built by Robert de Lacey the 2nd Baron of Pontefract, as a chapelry of the ancient Parish of Whalley. From 1296 until the reformation, the Parish was run by the Cistercian monks of Whalley Abbey. Colne did not become a Parish in its own right until 1865.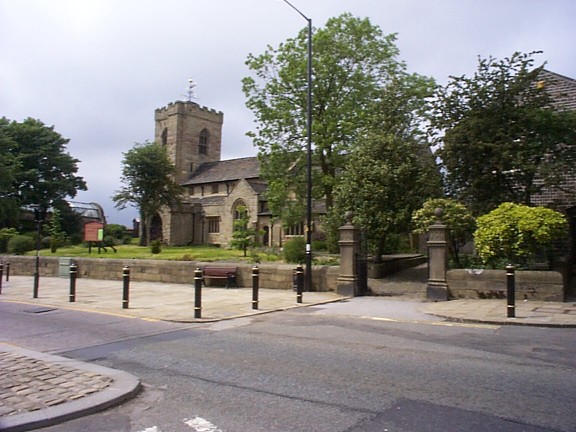 Colne Parish Church (05 June 1998)
The church was rebuilt in 1815. Only three pillars to the North of the nave, the lower half of the tower, and the East end remain from the original building. In 1891 the North Aisle was rebuilt and the interior refurbished by the noted architects Austin & Palsey.
Colne Church Bellringers have their own web site.
Parish Who's Who
Function
Name
Contact Details
TEAM VICAR
Rev. Dr Peter Mott

(read his testimony at CSIS) - NOW RETIRED

| | |
| --- | --- |
| 60 Albert Road, Colne, BB8 0AE | 863479 |

LICENSED WORKER
Joan Macey

| | |
| --- | --- |
| 13 Lancaster St. Colne, BB8 9AZ | 868655 |

LAYREADERS
Dr Anne Mott

| | |
| --- | --- |
| 60 Albert Road, Colne, BB8 0AE | 863479 |

Mr Peter Nowland
CHURCHWARDENS
Bryan Belcher

| | |
| --- | --- |
| Highways, Noggarth Road, Roughlee, Burnley, BB12 9PT | 694170 |

Neville Crowson

| | |
| --- | --- |
| 285 Barkerhouse Road, Nelson, BB9 9LR | 613340 |

SECRETARY
Mrs H. French
7 Noyna View, Colne, BB8 7AU
TREASURER
Mr F. Whittaker

| | |
| --- | --- |
| Swanfield House, Keighley Road, Colne, BB8 0TN | 865867 |

STEWARDSHIP RECORDER
Sidney Roe
863337
DIRECTOR OF MUSIC
Dr Anne Mott
863479
BELLRINGERS: Hon. Sec. & Belfry Keeper
Kevin Pickup
FLOWER GUILD SECRETARY
Mrs Dina Crowson
613340
TRANSPORT SECRETARY
Mr S. Roe
863337