Pendle Hippodrome Youth Theatre

Accompanied by Pendle Youth Orchestra

Present

Bugsy Malone

by Alan Parker & Paul Williams
(by kind permission of Warner Chappell Ltd.)

1999

Thursday 18th February
Friday 19th February
Saturday 20th February
At 7.15pm
Tickets:
Adult £5.00
Child £4.00

Pendle Hippodrome Theatre
New Market Street
Colne
Story
A spoof gangster musical, with a cast made up of children, accompanied by the Youth Orchestra.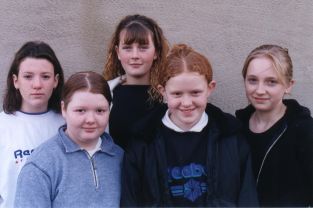 Fat Sam's Gang
The producer himself was a member of the Youth Theatre.
Set in 1929 in New York, the era of Gang Warfare, hoodlums, showgirls, dreamers and the unforgettable "splurge-gun". The big city is turned into a state of chaos where double crosses and custard pies are rife.
Fat Sam and his arch rival Dandy Dan battle for Top Dog status.
Meanwhile newcomer Blousey Brown falls into bad company with gangster Fat Sam and his sharp tongued girlfriend Tallulah, when all she wants is fame, fortune and to go to Hollywood.
Can Bugsy Malone save the day?
The Cast
Actor/ress

Part

Actor/ress

Part

Ashton S
Marbini – Chorus (Dancer)
Nowell C
Tillie – Radio Announcer – Chorus
Beardsworth E
Louis – Chorus (Fat Sam)
Oliver K
Snake Eyes – Chorus
Blackburn S
O'Dreary – Joe – Chorus
Patel L
Pichet – Velma – Flash Frankie – Chorus
Bradley S
Dandy Dan
Robinson C
Laughing Boy – Oscar
Brown A
Yonkers – Lena
Robinson P
Bronx Charlie
Brown G
Knickles – Priest
Spencer H
Doodle – Chorus
Clough M
Ritzy – Chorus
Stott K
Looney – Waitress – Chorus
Clough T
Seymoor Scoop – Pop Bedier – Chorus
Style J
Roxy Robinson – Chorus
Edwards G
Cagey Joe
Sumpton C
Baby Face – Paperboy – Chorus
Fothergill K
Shady – Waitress – Chorus
Thompson J
Benny Lee
Heap N
Lovella – Chorus
Tranmer S
Radio Announcer – Undertaker – Chorus
Hill C
Bugsy
Wallace H
Waitress – Chorus
Hill K
Tallulah
Walton A
Leroy – Ventriloquist – Chorus
Horsefield K
Dotty - Chorus
Wells K
Chorus
Jackson C
Fizzy
Wilkinson F
Angelo – Chorus
Lyle C
Shoulders
Wilkinson J
Smolshy – Chorus
Miller R
Blousey
Wingfield H
Bulter – Chorus
Normanton A
Loretta – Velia – Chorus
Wright T
Fat Sam
Charity reg no 513275