[ Coffee Culture ] [ Cross Gaits Inn ] [ Jade Palace ]
Cross Gaits Inn
Date of Review
28 Oct 2000
CROSS GAITS INN
Beverley Road, Blacko
01282 616312
greebo10@aol.com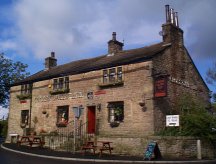 Cross Gaits Inn, Blacko
We were up at the Cross Gaits, Blacko, a few weeks ago and noticed the new menu. Unfortunately we had gone there with fish on our minds, and that was what we had, though I felt guilty for not trying a dish from a menu that was innovative and obviously had some thought put into it. So much so that we returned last Saturday to sample some of the dishes.
It was absolutely excellent, and I think they deserve recommending on your website. Wolf (my husband) had something from the 'hot baguette' range - sounds like something my camp friend would refer to! The filling he chose was 'chicken and mushrooms with a hint of garlic if preferred'. Very much preferred in our case! We have a high garlic threshold, and told them not to hold back!
I chose 'creamy vegetable bake with rice or chips' - I did not fancy either and asked if I could have mine with garlic bread - there was no problem about this at all, and I didn't get charged extra for it. There were only two slices, but they were done exquisitely - crisp on the outside, soft inside, the impression was it was pan-fried.
Wolf had a huge plateful, a half size white baguette occupying the length of a big platter, split down the middle as you would for a frankfurter, with the fried chicken pieces and mushrooms inside. A big pile of chips and a side salad of mixed leaves completed the picture. To quote him, he was 'stuffed!'
Mine came in one of those little brown earthenware pots, with sticky cheese on top that was finished under the grill. This was packed with fresh vegetables - green finger-sliced beans, aubergine, peppers, mushrooms, broccoli, tomato all done perfectly al dente - not warm and raw, as some restaurants have started serving things up, but as they should be, cooked but still firm. The aubergine especially was wonderfully juicy. The vegetables were in a cheese sauce which was not thick and floury, it was thin and delicious and full of vegetable juices, and then the topping of grilled cheese. Again the salad of mixed leaves.
We have promised ourselves to go every Saturday until we have exhausted the menu, or the chef's inventiveness.
The pub had been decorated for Halloween, and the orange bunting over the bar gave a warm cosy feeling. There were many more people eating than I have ever seen there before, obviously word is spreading. The dreadful pictures that have hung on the walls for centuries have been replaced by clean modern prints of sea and waterscapes - even those dusty old artificial flower arrangements with their inches of dust have been thrown out! I thought there must be some clause in the lease that forbade their removal!
It's a rare treat to get food you can eat in boring old Nelson! Keep the Cross Gaits in business and make a note to go there at least once a week. You'll love it! It's not expensive, all the food is fresh cooked with respect, love and care so the vibes in it are good for you, there's meat, an extensive vegetarian menu, and some dangerously tempting sweets, so none of you have any excuse at all!
Technical notes: Hosts Peter and Jane Smith took over the Cross Gaits three months ago. Jane does the cooking, and Peter is also a trained chef. Food is served Tuesday, Wednesday and Thursday from 6-8.30pm; Friday 6-9pm; Saturday 12-9pm; Sunday 12-7pm.
Email the Cross Gaits on greebo10@aol.com
Opening Times (food)
| | |
| --- | --- |
| Tue - Thu | 6.00pm - 8.30pm |
| Fri | 6.00pm - 9.00pm |
| Sat | 12.00pm - 9.00pm |
| Sun | 12.00pm - 7.00pm |
| Mon | Closed |
Special bookings for evenings can be made for parties, etc.
Ratings
(coming soon)
Food
Drink
Service
Atmosphere/
Environment
Value for money
Overall
Reviewer Varaly Thome, www.pendlepeople.com